Montecito Acquires Memorial Hermann Sports Park in Suburban Houston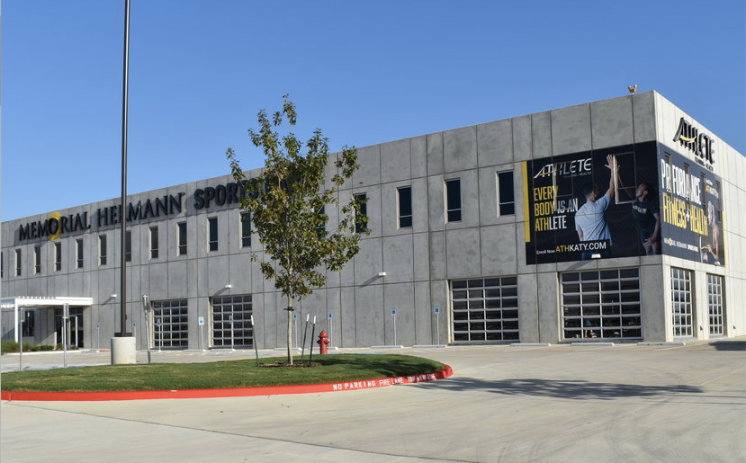 Montecito Medical Real Estate, a premier owner of medical office properties throughout the U.S., has completed the acquisition of a medical office building and athletic training/wellness center on the campus of Memorial Hermann Hospital in Katy, Texas.
The Class A, two-story complex, which opened in 2019, contains 56,100 square feet of rentable space, is primarily leased to the hospital. At the sports park complex, physicians employed by Memorial Hermann provide primary care, orthopedics and sports medicine services. The athletic training and wellness center, which encompasses 22,300 square feet of the building, is operated by Athlete Training + Health (ATH). The property also includes a turf field adjacent to the building.
"Our investment team is extremely pleased to add this exceptional asset to our portfolio, and for the opportunity to enter into a long-term relationship with leading providers like Memorial Hermann and Athlete Training + Health," said Chip Conk, CEO of Montecito Medical Real Estate. "With its distinctive focus on a combination of sports medicine and sports training, and its connection to such a respected health system, this asset offers a unique set of opportunities. We couldn't be happier about this acquisition."
Memorial Hermann is the largest health system in Southeast Texas, with 16 hospitals, eight cancer centers, three heart and vascular institutes and 27 sports medicine and rehabilitation centers, as well as a number of other outpatient and rehab facilities. The health system enjoys an A1 credit rating from Moody's.
ATH provides evidence-led training aimed at elevating physical performance through evaluation and education, providing full-spectrum, holistic training and care in tandem with unique, collaborative relationships with local health systems. The partnership with Memorial Hermann is the only one in the Greater Houston area to combine expert sports and human performance training with advanced sports medicine.
The property is advantageously located along Interstate 10 (Katy Freeway), a major artery with traffic of 257,000 vehicles per day. The sports park complex is at the edge of the campus of Memorial Hermann Katy Hospital, a 142-bed facility that generates more than $1 billion in patient revenue.​​​​​​
With schools that are rated the best in the state, Katy is a growing, affluent market that continues to attract families with children. The University of Houston recently opened a new campus in Katy, where it joins companies such as Amazon, Igloo Products and Academy Sports that have established large corporate locations in the community.
The Memorial Hermann Sports Park represents Montecito's second acquisition in Katy in the past six months. In July 2019, the company acquired Mason Creek Medical Office Building, a 30,000 square-foot building along the I-10 corridor. ​​​​​​
"As we continue to expand our presence in Texas, we are especially bullish on Katy and the greater Houston market area," Conk said. "We are really excited about the opportunities for growth here."
About Montecito Medical
Montecito Medical is one of the nation's largest privately held companies specializing in healthcare-related real estate acquisitions and partnering with physicians and developers to fund development of medical real estate. The company also supports providers with a suite of AI-powered technology solutions that increase revenues, reduce costs and build physician wealth. Since 2006, Montecito has completed transactions involving more than $5 billion in medical real estate. Headquartered in Nashville, TN, the company has been named for five consecutive years as a "key influencer in healthcare real estate" by GlobeSt.com and the editors of Real Estate Forum. For more information, please visit www.montecitomac.com.
---
Go Back