Montecito Medical Acquires Lovelace Clinic Building in Albuquerque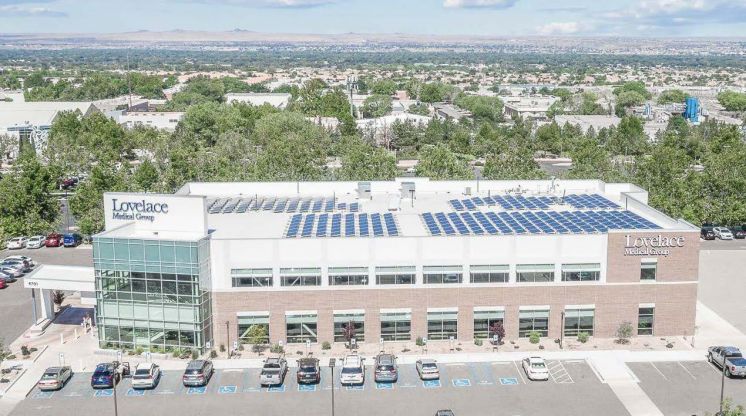 Nashville, Tenn. — Montecito Medical Real Estate, a premier owner of medical office properties throughout the U.S., has completed the acquisition of the Lovelace Clinic Medical Office Building, a large medical office and urgent care center in Albuquerque, New Mexico.
The two-story, 69,539 square-foot facility is 100% leased to Southwest Medical Associates, a subsidiary of Lovelace Health System. The primary care medical office portion of the building, which represents 43,200 square feet, opened in October 2017. In phase two, Southwest Medical Associates expanded the facility by 26,339 square feet to add an urgent care center and specialty care. The expanded clinic began seeing patients in October.
"The Lovelace Clinic building is a top-shelf medical office asset in every way," said Chip Conk, CEO of Montecito Medical Real Estate. "We are excited to have been selected as the buyer of this prime property, and also for the opportunity to form a long-term relationship with such respected names in healthcare as Southwest Medical Associates and Lovelace Health System."
At the medical office facility, Southwest Medical Associates provide a range of healthcare services in the specialties of internal medicine, dermatology, family medicine, endocrinology, pediatrics, urology, diabetes care, general surgery, plastic surgery, radiology and podiatry. The facility offers 100 exam rooms with space to accommodate up to 40 providers. The urgent care portion of the clinic provides walk-in treatment seven days a week.
Southwest Medical Associates is a physician group employed by Lovelace Health System, one of the largest medical providers in New Mexico, with more than 3,600 employees and seven acute care hospitals. Lovelace is owned by Nashville-based Ardent Health Services, a nationwide provider of hospital and healthcare services.
Lovelace Clinic is strategically situated in the northern Albuquerque metro area, just off Interstate 25, within a five-mile radius of approximately 215,000 residents who provide a strong patient base. The clinic is minutes from Lovelace Women's Hospital and Lovelace Medical Center.
The property development was led by Scott Throckmorton, John Sedberry and Jeff Jesionowski. "This Class A medical office development is in the heart of Albuquerque and provides centralized outpatient care services to the healthcare system's patients," said Throckmorton.
The project was sold by the brokerage team of Scott Throckmorton with ARGUS Investment Realty; Peter Bauman and Tivon Moffitt with Institutional Property Advisors; and Andrew Milne with JLL. "We congratulate the Montecito Medical team on the purchase of this asset. They were an excellent partner to work with on the property acquisition," said Moffitt. "The pandemic has accelerated recent trends with strong investment demand for high-quality medical office space," said Bauman.
With more than 900,000 residents, Albuquerque is both the largest city in New Mexico and a fast growing metro area whose population increased by 25% during the past two decades. Foreign Direct Investment magazine ranks the metro area in the top 10 American Cities of the Future.
The Lovelace Clinic acquisition continues Montecito's momentum in what has been an extremely active fourth quarter for the company. "We are reviewing new deals on a daily basis and have been gratified by the response by owners of medical office properties to our company's distinctive focus on building long-term, mutually beneficial relationships," Conk said. "We look forward to announcing a number of additional acquisitions before the end of the year."
About Montecito Medical
Montecito Medical is one of the nation's largest privately held companies specializing in healthcare-related real estate acquisitions and partnering with physicians and developers to fund development of medical real estate. The company also supports providers with a suite of AI-powered technology solutions that increase revenues, reduce costs and build physician wealth. Since 2006, Montecito has completed transactions involving more than $5 billion in medical real estate. Headquartered in Nashville, TN, the company has been named for five consecutive years as a "key influencer in healthcare real estate" by GlobeSt.com and the editors of Real Estate Forum. For more information, please visit www.montecitomac.com.
---
Go Back