Montecito Medical Acquires Medical Office Building in Richmond Area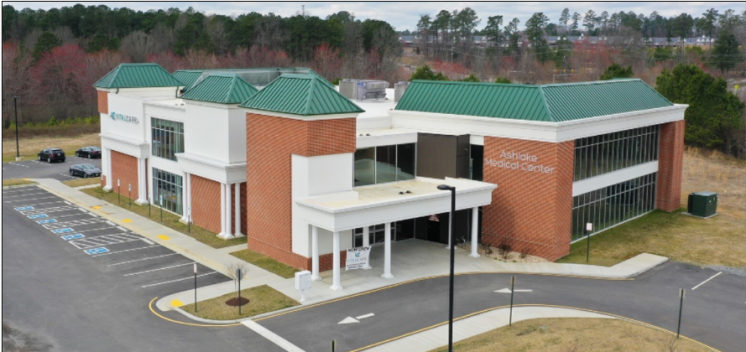 Montecito Medical, a premier owner of medical office properties throughout the U.S., has completed the acquisition of the Ashlake Medical Office building in the Richmond suburb of Chesterfield, Virginia.

The 27,000 square-foot, multi-tenant building, which opened in 2018, is 100% leased. The four tenants include three private medical practices and a nationwide operator of clinical laboratories.

"Ashlake Medical Office is a beautiful facility in a strategically advantageous market area," said Rus Gudnyy, Senior Vice President of Investments at Montecito Medical. "We are pleased not only to have been selected as the buyer for this asset but for the opportunity to enter into a long-term relationship with the physicians who serve their patients in this building."

The providers at Ashlake Medical Office serve patients in a range of specialties, including primary care, pediatrics, cardiology, dermatology, sleep medicine, minor surgery and lab testing.

The property is advantageously situated along US Highway 360, one of the area's primary road arteries, adjoining neighborhoods of residential and retail properties. Chesterfield County, the state's fifth largest, is a growing and affluent area to the south-southwest of Richmond.

The Ashlake Medical Office acquisition expands Montecito's footprint in Virginia. Recently, the company also acquired the Beach Medical Office property in Virginia Beach, along with two other medical office buildings in the Richmond area. "Montecito has deep roots in Virginia, so we are especially gratified by the opportunity to help physicians in this state build wealth and more successful practices through making the most of their medical real estate," said Montecito CEO, Chip Conk.
About Montecito Medical
Montecito Medical is one of the nation's largest privately held companies specializing in healthcare-related real estate acquisitions and funding the development of medical real estate. Montecito is a leading resource for both medical real estate owners and healthcare providers seeking to monetize or expand their holdings. Since 2006, it has completed transactions across the United States involving more than $5 billion in medical real estate. Headquartered in Nashville, TN, Montecito has been named as a "key influencer in healthcare real estate" for four consecutive years by GlobeSt.com and the editors of Real Estate Forum. Chip Conk, the company's CEO, was named Healthcare Real Estate Executive of the Year for 2021 by Healthcare Real Estate Insights. For more information about Montecito Medical, please visit www.montecitomac.com.
---
Go Back