Montecito Medical Acquires Medical Office Property in Las Vegas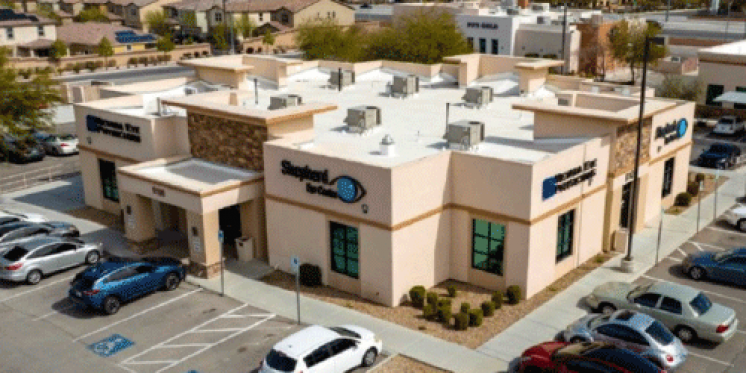 Montecito Medical has completed the acquisition of a medical office building occupied by a leading specialty provider in Las Vegas, Nevada.
The 7,006 square-foot building is fully leased to Shepherd Eye Center.
"As we continue to build a strong presence in Las Vegas, we are pleased to be selected as the buyer of this outstanding property and by the opportunity to build a relationship with one of the most respected providers in this market area," said Nicholas Muffoletto, Acquisitions Associate at Montecito Medical.
Ben Billings and Jason Lesley of Perry Guest Companies represented the seller in the transaction.
Shepherd Eye Center is an internationally recognized practice that has served the Las Vegas area for more than 50 years. The group's founder, Dr. John R. Shepherd, pioneered new techniques and instrumentation that improved the way cataract surgery was performed around the world. Today, the group operates in five locations with 18 physicians.
At the property acquired by Montecito, Shepherd Eye Center physicians perform more cataract surgeries than any other practice in Nevada. They also deliver a wide variety of other specialized medical services including general ophthalmology, cosmetics, LASIK, optical, and pediatrics.
Located in Southwest Las Vegas directly off West Post Road, the property is situated in the most rapidly growing submarket in the Las Vegas metropolitan area. Adjacent to the 215 Beltway and Southern Hills Hospital and Medical Center, this site features excellent convenience, visibility, and exposure to high traffic counts.
The Shepherd Eye Center building represents Montecito's fourth acquisition in Las Vegas in 2022. "We continue to be attracted by the opportunities here, and we are gratified that so many medical office owners in the Las Vegas area continue to entrust their real estate to us," said Chip Conk, CEO of Montecito Medical.
About Montecito Medical
Montecito Medical is one of the nation's largest privately held companies specializing in healthcare-related real estate acquisitions and funding the development of medical real estate. Montecito is a leading resource for both medical real estate owners and healthcare providers seeking to monetize or expand their holdings. Since 2006, it has completed transactions across the United States involving more than $5 billion in medical real estate. Headquartered in Nashville, TN, Montecito has been named as a "key influencer in healthcare real estate" for four consecutive years by GlobeSt.com and the editors of Real Estate Forum. Chip Conk, the company's CEO, was named Healthcare Real Estate Executive of the Year for 2021 by Healthcare Real Estate Insights. For more information about Montecito Medical, please visit www.montecitomac.com.
---
Go Back