Montecito Medical Acquires Medical Office/Surgery Center Building in Phoenix Suburb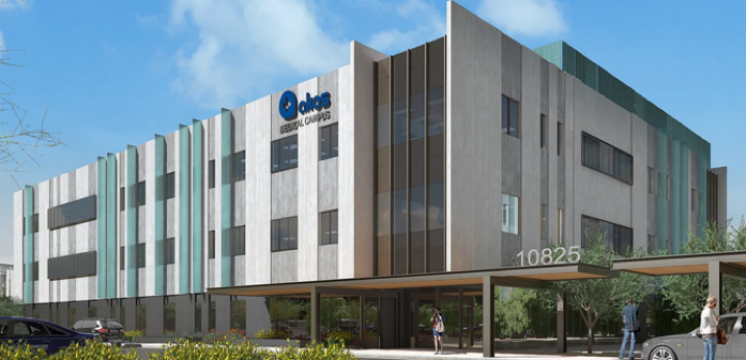 Montecito Medical, a premier owner of medical office properties throughout the U.S., has completed the acquisition of a 68,000 square-foot medical office building in the Phoenix, Arizona, suburb of Avondale.
The three-story Akos Medical Office Building, which is fully leased, includes a multi-specialty ambulatory surgery center (ASC), a state-of-the-art imaging suite, a specialized cardiovascular ASC, pharmacy, urgent care and clinical office space.
The building is master-leased to Apricus Health, which manages fully integrated health systems — including primary care, specialty care, urgent care, walk-in clinics, surgical and imaging centers — and aligns providers to improve health outcomes while significantly lowering costs. Apricus' provider network encompasses 600 affiliated multi-specialty physicians and more than 1,000 partner providers who refer patients.
"We are excited not only to acquire this brand-new real estate asset in a strategic growth market but also to form a relationship with an organization like Apricus Health that represents the leading edge in healthcare innovation," said Bryan Brown, Senior Vice President of Acquisitions at Montecito Medical.
The property's other tenants include Peak Heart and Vascular, a market-leading practice with multiple locations across the area. Peak Heart, which treats the full spectrum of cardiovascular disease, operates a cardiovascular ASC within the building.
"We are grateful to Montecito for their help and support that allows us to better serve our community in the West Valley and meet a lot of their healthcare needs in one medical campus," said Dr. Kishlay Anand, founder of Apricus Health. "Apricus is excited to continue to partner as we grow across multiple states." 
The ASC property is conveniently situated west of downtown Phoenix along Interstate 10, near the junction with Loop 101 and two miles from a major medical center.
"It was exciting to be able to bring this buyer and seller together to get the deal done," said J.T. Taylor of ORION Investment Real Estate, the broker that facilitated the transaction.
The acquisition continues the expansion of Montecito's rapidly growing footprint in the Phoenix area. Earlier in 2021, the company acquired medical office properties in Chandler and Deer Valley.
"We regard the Akos Medical Office Building as a strategic acquisition in a key market," said Chip Conk, CEO of Montecito Medical. "We are excited that more and more provider groups are choosing Montecito to help them make the most of their medical real estate."
About Montecito Medical
Montecito Medical is one of the nation's largest privately held companies specializing in healthcare-related real estate acquisitions and partnering with physicians and developers to fund development of medical real estate. The company also supports providers with a suite of AI-powered technology solutions that increase revenues, reduce costs and build physician wealth. Since 2006, Montecito has completed transactions involving more than $5 billion in medical real estate. Headquartered in Nashville, TN, the company has been named for five consecutive years as a "key influencer in healthcare real estate" by GlobeSt.com and the editors of Real Estate Forum. For more information, please visit www.montecitomac.com.
---
Go Back