Montecito Medical Acquires Medical Plaza in Dallas Metro Area from MedCore Partners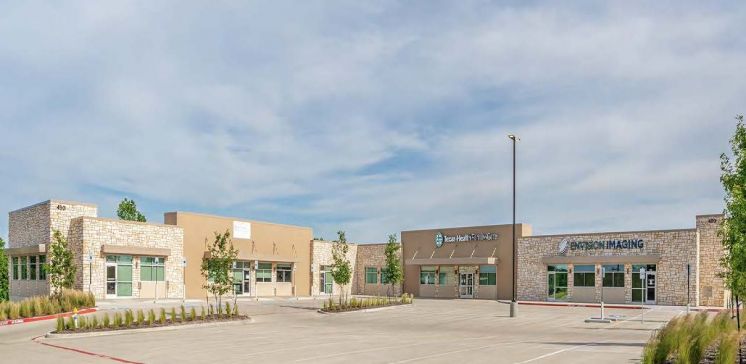 Montecito Medical Real Estate, a premier owner of medical office properties throughout the U.S., has completed the acquisition of Sunnyvale Medical Plaza from MedCore Partners, a Dallas-based healthcare real estate firm.
The Class-A property, which offers nearly 22,000 square feet of rentable space, is 100% leased and anchored by Texas Health Resources, a large regional provider. MedCore Partners developed the building in 2019 on 2.4 acres in a highly prominent location in Sunnyvale, a rapidly growing Dallas suburb.
"We are particularly pleased to have been selected as the buyer for this asset," said Chris Conk, Principal of Montecito Medical Real Estate. "Sunnyvale Medical Plaza represented an opportunity to own an essentially brand-new building, in one of the most attractive markets in the entire Dallas metro area, with a respected healthcare leader as our tenant."
"MedCore is very proud to have served as the developer of this project," remarked Brian Bollich, Principal of MedCore Partners. "Our team worked tirelessly to develop this highly specialized facility for Texas Health Resources and their physicians, and we're very thankful for the confidence they have in our team to deliver state-of-the-art projects to further their mission."
At the Sunnyvale location, Texas Health Resources offers wellness services, preventive care, disease management, health screenings and testing for all of its primary care and internal medicine patients. The provider devotes 12,107 square feet of the facility's clinical space to a family practice clinic, with another 4,449 square feet devoted to cardiology services. In the remaining 5,352 square feet of the facility, Texas Health Resources operates an imaging center in a joint venture with Envision Radiology.
Texas Health Resources is one of the largest faith-based, nonprofit healthcare delivery systems in the United States and the largest in North Texas in terms of patients served. The system primarily serves a 16-county area in North Central Texas that is home to approximately 7 million people. More than 6,000 physicians in the region have active staff privileges at the 29 hospital locations operated by Texas Health.
Envision Radiology is the fastest growing provider of diagnostic images in the industry, employing the latest, cutting-edge technology. The group operates facilities in 19 cities in Northeast Texas.
The medical plaza is strategically situated in a high-profile area, along the access road to US Highway 80, and within a new commercial development. A 70-bed hospital, Baylor Scott & White Medical Center, is located one half mile from the property.
The Town of Sunnyvale is a burgeoning suburb of the Dallas-Fort Worth Metroplex. Located 15 miles east of downtown Dallas, the growing and affluent community offers excellent schools, high-end family housing, and convenient access to major retailers and restaurants. The town is bordered by Lake Ray Hubbard and offers outdoor and recreational amenities. The Sunnyvale market boasts a population growth rate of 13%, which is one-third higher than the overall growth rate for Texas, and a median household income of $125,000, which is more than twice as high as that of Dallas County as a whole.
The Sunnyvale Medical Plaza acquisition continues the strong momentum generated by Montecito during an extremely busy third quarter of 2020. A number of additional acquisitions are currently slated for closing before the end of this calendar year.
About Montecito Medical
Montecito Medical is one of the nation's largest privately held companies specializing in healthcare-related real estate acquisitions and partnering with physicians and developers to fund development of medical real estate. The company also supports providers with a suite of AI-powered technology solutions that increase revenues, reduce costs and build physician wealth. Since 2006, Montecito has completed transactions involving more than $5 billion in medical real estate. Headquartered in Nashville, TN, the company has been named for five consecutive years as a "key influencer in healthcare real estate" by GlobeSt.com and the editors of Real Estate Forum. For more information, please visit www.montecitomac.com.
---
Go Back